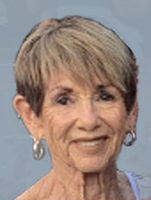 Patricia G. Green
Patricia G. Green, age 76 of Hopewell, NJ died Wednesday September 11, 2019 at the Inspira Medical Center Vineland. She was born in Woodbury and was the daughter of the late George E. Westcott and Helen Hancock Westcott. Patricia was a lifelong area resident.
She was employed as a medical assistant for the A&A Dermatology in Vineland.
Survived by her husband of 58 years Tomway W. Green, children, Kelly L. Anthony and her husband Emile of TX, Kasey L. Green of Salem, Tommy G. Bechtel and her husband Larry of LAC, and Tricia G. Green and her friend Edward Sloat of Woodstown, grandchildren, Kimberly, Rochelle, Ryan, MacKenzie, Georgie, Baillie, and Gavin, 5 great grandchildren.
She enjoyed spending time with her grandchildren, going to the rodeo, and shopping every weekend
She will be sadly missed by her loving family including her dogs, Tobias and Tiny.
Predeceased by a brother, George J. Westcott.
A memorial service will be held 7:00 PM on Tuesday September 17, at the Laughrey Funeral Home, Pennsville where friends may call from 6:00 to 7:00 PM prior to the service. Burial will be private.
In lieu of flowers please make memorial contributions to the American Diabetes Association in memory of Patricia G. Green