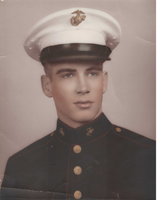 Ralph E. Hewitt
Ralph E. Hewitt, age 74 of Pennsville died Monday April 22, 2019 at his residence. He was born in Bridgeton, NJ and was the son of the late Ralph Daton Hewitt and Martha Alice Goff. Ralph was a lifelong Salem County resident.
He was employed as a chemical operator for the DuPont Chambers Works, Deepwater where he retired following many years service. He was a Marine Corp Veteran of the Vietnam War. Life Member of the Pennsville VFW and the American Legion.
Survived by his wife, Holly D. Swanson Williams, sons, Edward D. Hewitt and Craig W. Hewitt of Virginia Beach, VA, sister, Patricia Chapman of Pedricktown.
Predeceased by his first wife, Elaine M. Dulin Hewitt (6/26/2011) brothers, Robert and Allen Hewitt.
Ralph enjoyed hunting, fishing, woodworking and socializing with his veteran buddies.
Funeral services will be held 2:00 PM on Friday April 26, at the Laughrey Funeral Home, Pennsville, NJ where friends may call from 1:00 to 2:00 PM prior to the service. Burial of cremains will be held 1:00 PM on Wednesday May 1. www.laughreyfuneralhome.com