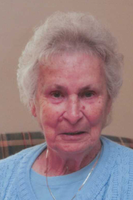 Cynthia D. Donelson
Cynthia D. Donelson, age 84, of Canton, passed away peacefully on January 16, 2019 with her loving family by her side.
She is survived by her 5 children, Lorraine Jenkins (Max) of Pennsville, Linda Venable (Richard), Linwood Donelson, Jr. (Tracy), and Debbie Saunderlin (Tim) of LAC, and Carol Pangburn (Thomas) of Pennsville. 10 Grandchildren, Harry (Tammy) and Mike (Stacey) Wariwanchik, Rick (Megan) and Jeremy (April) Venable, Stefany Hitchner, Linwood Donelson III, April (Chris) Hassler, Stevi Rae (fiance' Clark Barlow), and Joshua Pangburn, and Tomi Lin (Mike) Napuda. 13 Great grandchildren, Connor and Mason Wariwanchik, Alyse, Emma and Reagan Wariwanchik, Reese, Quinn and Sloane Venable, Tyler Venable, Theo Hitchner IV, Chelsea and Zachary Hassler, and baby Napuda due in July. Her beloved brother Francis Den Tomlinson (Betsy), and Brother in law Harry Donaldson (Sarah). She was predeceased by her husband Linwood H. (Lindy) Donelson, Sr., whom she had been married to for 57 years. Her great grandchildren, Kevin Niblock, and the Venable twin babies.
Cynthia will always be remembered for her sweet, loving personality and care for others. She enjoyed puzzles, reading, flower gardening at home and at her church, spending time on trips with her girls to Pennsvylvania, and the many summer vacations in Wildwood with her brother Denny and his family. She was a member of the Canton United Methodist Church and the Ladies Prayer Group that supported many members of her community. She supported her husband at the family farm and nursery, and was a retired dispatcher for the LAC Police Dept. She will be sadly missed by all.
Private services will be held at the convenience of the family. Arrangements by Laughrey Funeral Home, Pennsville
In lieu of flowers, please make memorial contributions to the Canton United Methodist Church, 918 Main Street, Salem, NJ 08079, or the LACPOA, 501 Locust Island Road, PO Box 157, Hancock's Bridge, NJ 08038