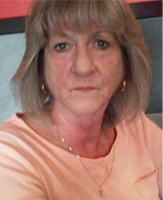 Anna Mae Camburn
Anna Mae Camburn, 68 of Pennsville, passed away peacefully at Christiana Hospital, Saturday December 1. She is survived by her son Ryan Cooper, daughter Terri Ann Newmuis and four grandchildren. Her parents both predeceased, James and Louise Camburn along with her brother James Camburn Jr.
Peanut as she was known by friends, was a fun-loving woman, with a great sense of humor. She loved the water, her pets and the beach. When she was younger, she worked at the glass houses in Salem and bartended at several places in Salem County, most recently, the Pennsville VFW for the last 20 years and had numerous friends there with whom she shared many a laugh and sometimes a tear. She will be greatly missed by her family, which she loved unconditionally.
She will be remembered for a good joke, an open ear to listen and being good company.
A Celebration of Life Service will be held at the Pennsville VFW on Tuesday, December 11, at noon.
www.laughreyfuneralhome.com