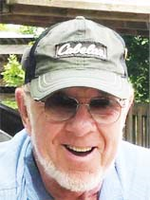 Arthur M. Mason, Jr.
Arthur Mitchell Mason Jr, "Big Mitch" August 15, 1944-November 15, 2018
Originally from Atlantic City and Absecon, NJ
Mitch loved his family to the moon and back. He is survived by wife of 100 years Patti Mason, daughter Michele (Lee) Lausch, granddaughter Mikayla Mason, grandson Nathaniel Mason, granddaughter Kiera Mason and grandson Levi Lee Lausch and a shit ton of nieces and nephews. He is predeceased by his son Arthur Mitchell Mason, III, Little Mitch.
Graduated in 1962 from Pleasantville High School
Spent 6 years in the 469th Army Engineers
34 years member of local 210 IBEW, 12 years as President.
He felt his finest professional hours were negotiating full retirement at 55 years of age, playing against the Globetrotters on the Washington Generals for 2 years, and scoring 50 points for Pleasantville High School on March 2, 1962 against Hammonton High School (the same night Wilt Chamberlain scored his record 100 points for the Philadelphia Warriors…Mitch never forgot being outshined).
He enjoyed spending time at Lake Laurie in Cape May, NJ, watching the Eagles (he was pretty sure they won the Super Bowl for him), his Jameson and cigars, BSing with friends, waking up at the ass crack of dawn to go to the health club, and again being with his family.
In lieu of flowers, please consider a donation to the
Mason Children Fund c/o Pennsville National Bank 170 South Broadway, Pennsville, NJ 08070
Trustee: Michele Lausch.
A memorial service will be held 5:00 PM Monday November 19, at the Laughrey Funeral Home, Pennsville where friends may call from 3:00 to 5:00 PM prior to the service. Burial will be private.
www.laughreyfuneralhome.com