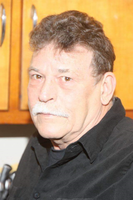 Mitchell L. Keen, Jr.
Mitchell L. "Buck" Keen, Jr. age 68 of Orlando, FL formerly of Salem, NJ died Friday August 17, 2018. He was born in Salem.
Survived by his wife, Brenda Hawk Keen, daughters, Annette Hood, Tammy Kramer and her husband Mark, son, Wayne Keen and his wife Rachel, grandson, Shaun Hood and Granddaughter, Jasmin Keen, four sisters, a brother and many nieces and nephews, cousins and friends.
He was a retired union electrician and a lifetime member of the Salem City Volunteer Fire Company, served his country in the US Marine Corps during the Vietnam War. He enjoyed fishing with friends, cooking, especially NJ tomatoes and corn, spending time with family and friends.
A memorial service will be held 10:15 AM on Saturday October 27, 2018 at the Liberty Fire Station on Front St. in Salem. Buck will take his last ride to be laid to rest in the First Baptist Cemetery, York St., Salem, NJ.