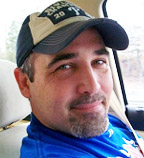 Peter J. DiSantis, III
Pete DiSantis, age 46 of Somerdale died Thursday, August 3, 2017. He was the son of Peter John DiSantis, Jr. and Patricia DiSantis Keller. Pete grew up in Pennsville.
He is survived by his fiancé Beth Palcko and her daughters Dominique and Donya and sister Lisa deShazo (Matthew) niece Paige and nephews Jackson and Blake and a brother Anthony Joseph DiSantis. His aunt Barbara Patrick (Wayne), cousins Jeff Patrick (Allen), Amy Danley (Blane) Maxx and Ryan, Tina Sheppard and Victoria. His Aunt Rosemary Cowan and cousins Denise Allen, Gionna and McKayla and Richard Toulson. His Uncle Joe DiSantis (Donna). He was predeceased by his Grandmother Sylvia Susedik and Grandparents Hannah and Peter DiSantis, Sr. and Uncle Bill DiSantis.
In life, Pete didn't always have it easy which people would have never have known by his carefree demeanor. He worked hard at becoming a better man and you would often find him quietly donating to beneficial causes. He wasn't looking for the recognition, he just wanted to help out the causes. He loved watching the Philadelphia sports teams and Big Bang Theory. He loved playing and taking care of his two rescue dogs, Scarlett and Charlotte and entertaining friends and families with barbecues out on his back deck.
A memorial service will be held at the Penns Grove-Excelsior Masonic Lodge located at 330 Georgetown Rd., Carney's Pt. NJ on Sunday, August 20 at 2:00 p.m.
The family would like donations to the Pennsville Mini Wrestling League or the Juvenile Diabetes Foundation.