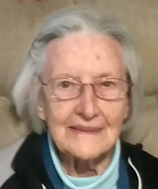 Louise B. Humphreys
Louise B. Humphreys, age 93 of Alloway, died Tuesday April 3, 2018. Born in Swedesboro on November 24, 1924, she was the daughter of the late Martha Leah (Putnam) and H. Lester Black, Sr.
She worked as a bookkeeper for the Glenside Dairy in Pennsville until it went out of business. She then worked with her husband, who was self-employed in the retail ice business.
Survived by her son, L. Raymond Humphreys, Jr., of Pennsville, Granddaughter, Bethanne, and great grandchildren: Elizabeth, Deborah and David and two nieces and one nephew.
Predeceased by a husband of 69 years, Louis R. Humphreys, Sr., a son, David Humphreys, brother, Harry Lester Black, Jr., and a grandson William Raymond Humphreys.
In lieu of flowers, the family would prefer donations sent to the Salem County Humane Society, Game Creek Rd, PO Box 214, Carney's Point, NJ 08069.
Funeral services will be held 11:00 AM on Friday April 6, 2018 at the Laughrey Funeral Home, Pennsville where friends may call from 10:00 to 11:00 AM prior to the service. Burial will follow at the Eglington Cemetery, Clarksboro, New Jersey. www.laughreyfuneralhome.com