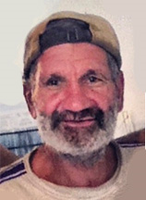 Armando Sanchez
Armando Sanchez (Cuba), age 64, of Pennsville, NJ passed away on March 28, 2018.
Born and raised in Placeta, Cuba. Armando migrated to the United States in 1980 where he proceeded his journey. He dedicated several years at Snow Environmental in Aston, PA and later became an agricultural laborer. He loved the outdoors, tending to gardens, fishing, and riding his bike from one county into another.
Beloved husband/partner/companion/friend of Noelia Mendez for 33 years. Stepfather to Domingo Mendez, Alejandro Mendez, Angel Mendez Sr., Jose Mendez, Norma Boatright, and a granddaughter (Angela Mendez) who he helped raised as his daughter. Grandfather, great grandfather, brother, uncle and friend to many. Predeceased by his parents Milagro Leal and Armando Sanchez, stepson Miguel Rojas, grandson Angel Mendez Jr, and nephews Julio Rivera and Franky Mendez.
Viewing Saturday, March 31, 2018 from 9-10 with services following at Laughrey Funeral Home 1 N Broadway, Pennsville, NJ 08070