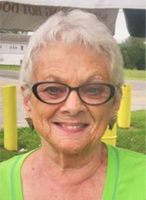 Donna L. Cooper
Donna Lee Estlow Cooper, 78, peacefully passed away on Thursday, March 8th, 2018 at Jefferson Hospital in Pennsylvania. She was the wife of Douglas Cooper. They shared 57 years of marriage together.
Donna was born on February 4th, 1940 in Bridgeton, New Jersey to Genevieve Couch Estlow and Claude Estlow. She was a left wing on the Field Hockey Team and graduated from Salem High School. Later became to be a part of the Beta Sigma Phi Sorority. Donna was employed at the Pennsville Elementary School as a teacher-aid and retired from Wilmington Trust in Delaware. Donna loved traveling in their motorhome, reading & quotes, Oster Dinners, Pontoon boat rides with the Johnston's, margarita's, beautiful scenery and family & friends.
Anyone who knew Donna, loved her. She will always be remembered for her wry sense of humor, ability to take charge, her love for Reese's & ice cream and her collection of pens and tablets and antiques.
She is survived by her husband Doug, children – Dawn McLaughlin and Dirk Cooper, grandchildren – Camille, Greta, Adeline, Flynn and Evan and one great-grandson, Brody.
The memorial service will be held 7:00 PM on Thursday, March 15th, 2018 at the Laughrey Funeral Home, Pennsville where family and friends may call form 6:00 to 7:00 PM prior to the service. Following the services will be a reception at the Cooper's Home for family and friends. Burial will be at a later date at the Finn's Point National Cemetery, Pennsville.
Memorial donations / in lieu of flowers may be made to the**Alzheimer's organization/charity**