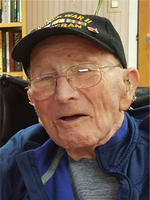 John B. Romansky
John Burton Romansky, 91, of Pennsville entered his eternal rest on March 2, 2018.
John was born in Camden, NJ on June 16, 1926 to John Felix Romansky and Flora Belle Maxwell Romansky. He was married to Eileen Mae (nee Denelsbeck) Romansky for 68 years before she predeceased him in 2016. John worked as a pipefitter at DuPont for many years, but his greatest pride was serving in the U.S. Army during World War II. He fought at the Battle of the Bulge and at the Rhine River battle, and served as a guard at the Nuremburg War Trials. He was only 19 years old when he went to war.
John loved baseball and spent many years as a coach in both Little League and Babe Ruth baseball. He also played softball in a recreational league. He loved the outdoors and spent a lot of time camping with his family and, later, with the Pennsville Skeeters Camping Club. He was a long-time member of Trinity United Methodist Church in Pennsville where he served as an usher and was often called to do small repairs and painting.
John is survived by his children Sharon Bagnell (Dan) of Bowie, MD; John Romansky (Beverly) of Anderson, SC; Gary Romansky (Janice Hall) of Morrison, CO; and Jamie Romansky of Pennsville. He had four grandchildren: Peter Bagnell (Chrissy) of Bowie; Christopher Romansky (Julie) of Spartanburg, SC; Sara Moore (Jason) of Anderson, SC; and Patrick Bagnell (Meredith) of Frederick, MD. And five great-grandchildren- Ava, Abigail, Aggie, Henry, and Jaxson.
Services will be held at Laughrey Funeral Home on Monday, March 5, 2018 with a viewing at 10 a.m. and a service of celebration at 11 a.m. Burial will be in the Veterans' Cemetery in Pilesgrove, NJ. In lieu of flowers donations can be made to Pennsville Historical Society or the Salem County Veterans group. www.laughreyfuneralhome.com