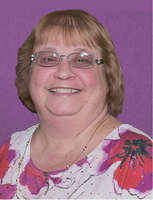 Karen V. Dolbow
Karen Victoria Clement Dolbow
Karen V (Clement) Dolbow, oldest daughter of the late Joseph R Clement and the late Shirleen Campbell Clement, went to be with our Lord and Savior February 28, 2018.
Karen has been a life long resident of Pennsville, NJ born on September 13, 1957. She graduated from the Pennsville Memorial High School in 1975. One of her most treasured memories of her youth would have been representing the PMHS Marching Band as their feature twirler.
Immediately following graduation, she opened "Karen's School of Baton" and operated her business on Main Street in Pennsville for 8yrs.
In 1977 she married her HS sweetheart, Forrest "Keith" Dolbow and together they would share 40+ years of "for better or worse, for richer or poorer, in sickness and in health until death did they part". We would also be amiss if we did not mention her love of travel with her husband and most notably to the "Happiest Place on Earth".
Karen was a well rounded member of society with employment opportunities that ranged form Assistant Manager at the former Eckerds Drug Store to a Preschool Instructor at the former Busy Hands Preschool to a retail associate of the Cracker Barrel and Dollar Tree to her most recent position as a bus aide for the Wyshinski Bus Company,
In 2001 she co-founded, with her daughter, the Pennsville Community Performing Arts Troupe; where she has continued for the past 18 years teaching all who aspired to learn the true art form of baton twirling.
She was an active member of the Trinity United Methodist Church in Pennsville where fond memories of her "selected pew 5" and her VBS Registrar duties will not be forgotten.
She was a former member of the Cub Scouts and Girl Scouts communities as a Leader for her Son and Daughters' troops.
She was preceded in death by her parents Joseph and Shirleen Clement, 1986 & 2007 respectively; her brother Joseph "Joey" Clement in 2002 and sister-in-law Peggy Dolbow Jones 2017.
She is survived by her loving husband Keith, her brother Kevin & Tammy Clement of Lakeland Fl; her mother-in-law Helen Wood Dolbow, her sister-in-law Patricia & David Travis, brother-in-law Jesse Jones, daughter Casey Lyn & Jimmy Abhau, son Ryan & Melissa Dolbow, daughter Kylee & Adam Dorrell.
She will be missed dearly by her grandchildren Dylan, James, Gaven, Rylan & Adley and her great-grandchildren Melony, Tommi & Maggie.
The viewing will be Saturday, March 3rd at the Trinity United Methodist Church, S. Broadway & Church Street, Pennsville, NJ where her beloved family and friends may call on her from 9-11am. Services will be immediately following at the church. Interment will be private.
In Lieu of Flowers – Donations may be made out to the Fulton Bank – please put in the memo section "In Memory of Karen Dolbow 2199" mailed to the Fulton Bank, 125 S. Broadway, Pennsville, NJ 08070. A Memorial Scholarship will be made in honor of Ms. Karen's Memory awarded to deserving graduating seniors who have a sincere passion for the performing arts, baton twirling and or marching band.