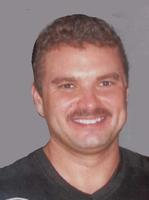 Stephen M. "Sonny" Little, Jr.
STEPHEN "SONNY" LITTLE, JR.
Stephen "Sonny" Little, Jr., age 44 formerly of Pennsville, known to family & friends as Sonny and Daddy to his two beautiful daughters, passed away peacefully in his home February 23rd.
He is the son of Stephen Little, Sr. and Diana Lynne Little of Pennsville.
Sonny was a 1991 graduate of Pennsville Memorial High School. He graduated in 1993 from United Technical Institute, Phoenix , AZ with an Associates degree. In the year 2000, he married his now estranged wife Janine Ayars of Salem with whom he had his two daughters.
At the time of Sonny's passing, he was living in Bradenville, PA in the outskirts of Pittsburgh, PA where he was working full time at a plastics manufacturer and also pursuing a degree in computer technology.
Music and NASCAR were his passions. Sonny was a phenomenal drummer, an avid fan of Metallica and NASCAR'S Jeff Gordon. He tried to never miss a race and on occasion traveled to various race tracks to watch the races live. He loved sharing quality time with his daughters when he would visit Pennsville.
Sonny leaves behind his two sweet daughters Olivia, 14 and Alaina, 10. Also his brother, Brady Little of Pennsville, NJ and his beloved nephew Brady Stephen Little with whom he shared a close bond and interest in music, specifically drumming and also an interest in cars.
He also leaves behind various aunts and uncles in Pennsville and his only surviving grandparent, Pop-Pop Stewart Cross. He was predeceased by his fraternal grandparents Mylum & Catherine Little, and maternal grandmother, Valarie Cross
A memorial service will be held 11:00 AM on Saturday March 3rd at Laughrey Funeral Home where friends and family may call from 9:00 to 11:00 AM prior to the service. Burial will be private. www.laughreyfuneralhome.com