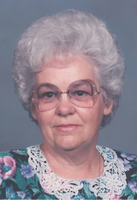 Isabelle M. Matthews
Isabelle May Matthews, age 84 died February 9th after a "Long Goodbye" caused by Alzheimer's disease.
She was born to Harry J and Roxie A (Wells) Matthews in Milford, DE. At the start of WWII, the family moved to Pennsville, NJ and Isabelle grew up on Church Landing Road. She attended Salem High School.
Isabelle was married to Douglas W. Jones, Jerome J. Anuszewski and George Sheaffer. After the death of her 2nd husband, she relocated to Fort Pierce, FL
In 1993, Isabelle assumed her maiden name of Matthews, but to all the neighbors on Salerno Road she was "Grandma Belle."
Isabelle was a homemaker most of her life. At 10 years old she worked cleaning Anna Locuson's house, which is now the Pennsville Township Historical Society. She worked as an X-ray Tech at Salem Hospital, was elected a delegate to the 9th Annual Conference of Republican Women in Washington DC, and served as a Census Taker in 1960. She attended the Assembly of God Church in Pennsville and was a Deacon in the Pentecostal Church of Fort Pierce.
Ms. Matthews was very talented in arts and crafts and had a quick wit and sense of humor.
Isabelle is preceded in death by her parents, four siblings; Harriet Shea, Alice Griscom, Garry Matthews and Arthur "Butch" Matthews and one son, Stanley Dale Jones.
She is survived by one sister, Roberta Brown, Ft Pierce, FL, four children; Douglas W. Jones, Jr., Deborah Lee Jones, Jerome Jay Anuszewski and Justina Fay Anuszewski, two grandchildren; Justin and Erika Anuszewski and one great grandson; Asher Anuszewski.
Services will be held at Hillcrest Memorial Gardens, Fort Pierce, Fl. Arrangements will be forthcoming. Family suggests contributions to the Alzheimer Association. www.laughreyfuneralhome.com