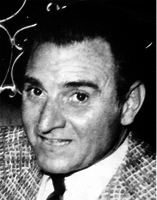 Rockey Poeta, Jr.
Our Dad died Friday evening February 2, 2018
Here is who he was to me.
It is amazing to me and the doctors how much his body could take at nearly 90. He survived two wars seeing active combat on two tours in Korea, worked in oil refineries, smoked for 40 years and played as hard as he worked. He survived Korea with some hearing loss, but had suffered multiple work injuries – ruptured discs, torn ligaments, crushed foot. He had a piece of his lung and a piece of his colon removed. He would say, "if you line up my scars, I was cut in half." He was diagnosed with congestive heart failure 6 years ago. Macular degeneration took his eyesight years ago as well. The guy was tough. The secret to his strength the last few years was clearly my mother. Three years ago, as she was handing him his medication he said, "I only take these damn things so I can stay here with you."
I don't think he expected to live as long as he did. He and Mom were always adamant that they would not be a burden to "you kids." So, the second they retired, they took off. One summer they drove from Tampa to Anchorage and back. We had a rare day or two with them here and there, but I always felt their presence. It is sad that their make-up and convictions denied them the opportunity to see my children grow and for my children to learn from them. Sharing some of him here helps. He loved all his grandchildren and great-grandchildren dearly. He was so very proud.
My dad didn't let fear paralyze him and could handle nearly any crisis. What he could not handle was Mom or us hurting. He handled his setbacks with resolve and continued forward motion. By example, as his eyesight failed, I never saw any sign of him feeling sorry for himself. I am sure he did, but I did not see it. When I told him about my eye injury he could not hide his emotion. The only time he was literally useless was when Mom was sick.
He was fair but could be angered. I never heard of him holding a grudge. I trusted him and never felt more secure than when I was with him. He could build anything, fix anything and handle most any situation. He taught me more than I learned in any school. His parenting style was minimal and words absolute. "Yes, you can buy that motorcycle, but I don't know where you are going to live." "When you are in hole, stop digging." Usually followed by "you're supposed to be the smart one."
One Sunday morning Tony Clemente and I were particularly hungover and we must not have been that quiet when we came home. "Hey boys, get your asses down here, your Mother has worked hard to make you a good breakfast." There were two plates with about 8 pancakes each covered in butter and syrup. He sat there smoking a pipe and blowing the smoke toward us saying "now eat up and don't hurt your mother's feelings." Three bites in and Tony leaned over to me and said, "you got to get me out of here." I can still hear my dad laughing as we nearly fell over each other to get out of the house. There was no lecture or admonishment, just those pancakes. When Jack Meyers lost his father at 8 years old, my dad simply said, "that boy is the only man of his house now, he is welcome here as often as he wants." 11 years later it was "I love to watch that boy eat."
His advice was always short and to the point. On girlfriends, "have fun, but be respectful." "The decisions they made before they met you are none of your business." On work, "use the right tools and take good care of them; plan well." (He would be angry at the state of my tools.) On physical conflict, "there is no shame in walking away, but only if your conscious permits it; if you decide to act, act without hesitation and hold nothing in reserve." "Never be the aggressor except in the defense of another, including a loved-one's reputation." Also, "everyone deserves your respect regardless of appearances, until they show you disrespect"; and, yet "everyone is also deserving of a second chance." Finally, the one that is sitting with me now, "you are not promised tomorrow." Not overly original, but he had a way of putting a unique spin on life. I have many, many more examples, all of which have contributed to who I am today, the good and, well, perhaps the not so good.
He both boxed and wrote poetry during the wars. He did wood carvings until his eyesight gave out. He was offered $1,000 for one. Mom refused to sell. "Your mother's crazy," he said. He would have given it away. He also loved to tell a good story – and he had many to tell. Like making an emergency landing on the pond on the Princeton Campus while delivering medical supplies in his sea plane. The students offered him coffee at the commissary until the weather cleared. He loved that one – not because of the skill involved but because the high school dropout had "Ivy League coffee." He liked coffee.
He dropped out of high school to enlist in the Marines. He did not want to be drafted, he wanted to pick his branch. As I have written here before, he never openly talked about Korea, but you could pull bits and pieces out of him on occasion. I recently heard him tell my girls about one of his best friends, Pepper. Pepper was shot and killed the first day in Korea while dug in next to Dad. I heard him say, "things got real for me after that." As an aside, he has never given cash to the Red Cross. It was ok if we gave blood. The story goes that after tracking and retrieving a fellow Marine in highly contested territory over a few days, all he wanted upon his return was confirmation that he had not been declared missing in action (he didn't want Mom to worry) and a cup of hot coffee. He was turned away from a Red Cross aid station because he was not an officer. I guess he could carry a grudge after all.
He loved Johnny Cash, Hank Williams, Sr., Patsy Cline, Jim Neighbors, Glen Miller and Mel Torme among many others. He kicked Cornel Wilde's butt in a bar fight in San Diego, was offered beach front property in Hawaii, but passed. He (and Mom) was an amateur bowler, a state champion trap shooter and skilled marksman. He made terrible wine, but grew great tomatoes and peppers. He dirtied every dish in the house when he cooked and would say "I cooked, you do the dishes." When I cooked it was "you cooked, you do the dishes." He and Mom traveled the world, but never returned to the Pacific or Asia. "I saw enough of it", he would say.
He loved a good dog. He brought a puppy home one day in his coat pocket, half shepherd half wolf; that dog became a neighborhood legend. That was before I was born and I feel like I knew that dog. The next shepherd was not so good. I got to close to his bowl when I was about 3 and it attacked me – tore me up pretty good I am told. Mom knew Dad would put Serge down. Serge must have known it too because he broke free that day and was hit by a car. Mom picked the next dog, a shepherd mix, when I was four or five; when I was sixteen it was Dad and I who drove him to the vet for the last time and drove home in silence. Our vet was not around the corner: it was a long drive home. I refused to cry in front of him. I know we both did later. "You don't always have to show how you feel; but you should always work to understand why you do."
It was not a perfect fairy tale love, but he loved my mother passionately and respected her even more. I used to flinch when she would jump up to fill his coffee cup after she, herself, worked a 12-hour day. It felt old school, but there was reciprocity, a balance. We could hear them discussing the family's affairs and issues of the day over coffee at 5 am – sometimes earlier, often laughing like teenagers. When Dad would pull a double, Mom stayed on the couch until he would get home; she rarely if ever went to bed without him. She always had his back and he knew it. (If you take the time to listen to the attached clip, keep in mind it was 1950, she was 18 and pregnant, there were no cell phones, no GPS and I-95 did not yet exist.)
Far from perfect yes; but, he was honorable and responsible and understood and accepted consequences of actions. He would give you the shirt off his back, unless his wife or kids needed it – in that order. One of the last times I sat with him I asked if I could have one of his root beers, he said "if it was my last one it would still be yours."
Although a "blue collar" guy, when he and mom went out they always looked sharp. He loved to dance and Mom and he were at once both graceful and athletic. I think that is where I will stop. That is the image for which I was searching.
I have no regrets. I made it clear to him that I loved him, was proud to be his son and made it perfectly clear, at his insistence (though it goes without saying), that Mom was in good hands and all the grandchildren and great-grandchildren were happy and healthy. He responded in kind and thanked me and said to tell everyone "thank you" and "thank you for the being the best family a man could have."
Dad left very strict (pre-paid) instructions. There will be no services, no military honors, no obituary, no eulogy (sorry Pop) and no requests for donations. He will be cremated immediately and Mom will hold his ashes until she joins him and then they will be laid quietly to rest, together, at Finns Point National Cemetery.
I suspect he will force himself to be patient.
Rest in Peace Rock. It was a life well lived. I am sorry it took its toll on you at the close.
Predeceased by his parents Rocco and Cornelia Stella Renzulli Poeta, his siblings Cipriano, Angelina. Antoinette, Robert and John and daughter-in-law Diana Keaton Poeta
Survived by his sister Maria Stella Poeta Farrell of Arizona, brother, Raymond and his wife, Linda, of Florida. His wife Miriam (York), sons Raymond, Rockey (III) and J.R and his wife Dawn. and daughter Cindy Poeta Goss and her husband James and 12 grandchildren and 8 great-grandchildren.
www.laughreyfuneralhome.com