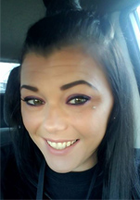 Alanna E. Liable
Alanna Elizabeth Liable, 33, of Pennsville, NJ, passed away on January 23, 2018 at home.
Funeral services will be held at Sharptown United Methodist Church, 24 Church St, Pilesgrove, NJ 08098 on Sunday, January 28, 2018. Visitation will be from 4pm to 6pm. The service, with Reverend Doug Smith officiating, will follow with light refreshments afterward. Laughrey Funeral Home will be handling the funeral arrangements, laughreyfuneralhome.com, (856) 678-7711.
Alanna was born in Salem, NJ to John Liable and Erin Franks-Liable on September 26, 1984. She graduated from Pennsville High School in 2002 and went on to earn an Associates of Science Degree in Applied Health Science from Salem Community College in 2010. She was employed as a Phlebotomist and Medical Assistant. Dance, gymnastics and snowboarding were among her favorite pastimes, and as a competitive dancer, Alanna's numerous awards and honors during her years at Dance Expression in Pennsville are evidence of her passion for and considerable talent in dancing. Alanna was also a role model for others; the younger dancers looked up to her, and she often assisted in their instruction. In addition to these activities, Alanna demonstrated a caring and giving spirit as she compassionately worked with others as a volunteer at the Promise Recovery Center in Prescott, AZ.
Alanna is survived by her daughter, Isabella Diaz of Woodstown; sister, Sierra Liable; father, John Liable; mother, Erin Franks-Liable; paternal grandparents, Robert & Marie Liable of Punta Gorda FL; maternal grandparents, Bob & Jan Franks of Pennsville NJ; aunts, JoAnn (Paul) Corvino , Debbie Liable, Louise Liable-Sands(Keith), Lela McBride; uncles, Robert Liable (Denise), George Franks, and many cousins. She is preceded in death by her uncles, Edward Liable, and David McBride.
Memorial donations may be made to a fund for her daughter: In Care of: Isabella C Diaz, Fulton Bank, 125 S. Broadway, Pennsville, NJ 08070. The family wishes to extend their gratitude for all of the prayers and support from family and friends. She will be missed by many, but we will always remember her big smile, warm heart, and her never-ending love for Isabella!