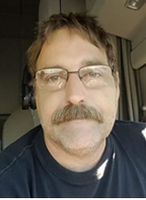 Kevin William Heil
Kevin William Heil (46) of Luverne, Alabama passed away January 21,2018. He is survived by his wife, of -27 years, Heather Heil, two sons, Kevin Wesley Heil, "Hammer", Darius Brooks and a daughter, Samantha Penny, "Sam". He precedes his Dad, Kenneth Beamer, Mom, Donna Beamer, a brother, Phil Bush and two sisters, Christine Bennet, and Jennifer Fisher. As well numerous family members and friends. Not to be forgotten his side-kick "Daisy".
Kevin was born on June 29, 1971 in Stratford, New Jersey. He graduated from Woodstown High School, then went on to complete training to become a Deasil Mechanic. However, his work passion was "truck driving ". He was on a trip for his employer, Walley Sanders, at his time of death.
All who knew him would agree he loved his family first, he was kind, loving all he would meet, and would love to entertain others with is sense of humor by making them laugh. He leaves a void for all who knew him and his presence here will be truly missed.
Funeral services will be held 7:00 PM on Friday January 26, at the Laughrey Funeral Home, Pennsville where friends may call from 6:00 to 7:00 PM prior to the service. Burial will be private at the convenience of the family. www.laughreyfuneralhom.com