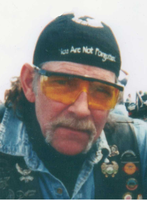 William M. "Slim" Hildebrand, Sr.
William M. "Slim" Hildebrand, Sr.
Slim passed away on January 13, 2018 at the age of 70. He was a former resident of Pennsville, NJ and resided in Pedricktown at his passing with his companion, Ernestine. He served in the United States Navy during the Vietnam War, was an active member and officer of the Pennsville Moose Lodge, and enjoyed carving toys out of wood as well as motorcycle runs for charity.
He is survived by his children, Jana Bosco of Deepwater, Bill Hildebrand and his wife Julie of St. Petersburg, FL, grandchildren, Elizabeth and Elayna Bosco, Miley and Alyssa Hildebrand, sisters, Debbie Harper and her husband Steve, Denice Ladd and her husband Paul and Kathleen Anderson, brother, Joseph Hildebrand.
A private service will be held for the family at the Laughrey Funeral Home, Pennsville. www.laughreyfuneralhom.com