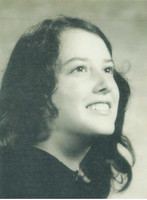 Ellen Westfield
Ellen Paladino Westfield, age 63 of Pennsville went home to be with her Lord on Sunday January 14, 2018. She was born in Mannington Township and was the daughter of the late George A. Paladino and Susan Sexton. She was a lifelong resident of Pennsville.
She was a 1972 graduate of Pennsville Memorial High School where she was an active saxophone player with the marching band. Graduated Salem Community College with a degree in Cosmetology. She was a member of the Christian Life Center in Pennsville where she sang in the choir and maintained the church food bank pantry.
She was a gifted artist with a knack for drawing, painting, poetry, cooking and baking, a homemaker at heart. Devoted mom, sister and mom mom.
She loved her grandson, Beatles, sunflowers, her cats and her Lord Jesus Christ. She was a light as bright as the sun and adored by many. Beautiful quiet spirit with an infectious laugh and compassionate heart. She will be sadly missed and we will cherish by the good memories she left behind. We rejoice that she is now soring with the Angles.
Survived by daughters, Lori Ellen Westfield of Newfield, NJ, and Cherie B. Westfield of Absecon, NJ, sisters, Anna Sue Paladino of Medford, NJ, and Theresa Paladino of Elsinboro, NJ, and her adoring grandson Reese Capelli.
A celebration of life service will be held at 6:00 PM on Thursday January 18, 2018 at the Christian Life Center, 670 South Broadway Pennsville, NJ 08070. Friends and Family may call from 5:00 to 6:00 PM prior to the service. In lieu of flowers, please make memorial contributions to the Christian Life Center Memorial Fund in memory of Ellen.