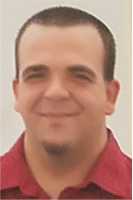 David A. Smith
David Andrew Smith, Age 37, passed away Saturday, December 30, 2017.
David is survived by his wife, Jamie, from Folsom, NJ, and three children: Dakota 14, Zachary 10, and Elizabeth 6. He also leaves behind his parents, Hershal and Louise Smith, two sisters Janice Shaw and Donna LaMotte, and his identical twin brother Derrick Smith.
David graduated high school from Park Bible Academy in 1998. He served in the Army and has been driving dump trucks for the past few years.
Funeral services will be held 11:00 AM on Friday January 5, at the Christian Life Center, 670 S. Broadway, Pennsville, NJ where friends may call from 10:00 to 11:00 AM prior to the services. Burial will follow at the Lawnside Cemetery, Woodstown. www.laughreyfuneralhome.com