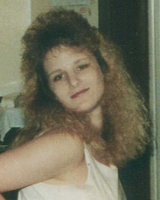 Christine R. Stewart
Christine Renee Stewart, age 44, of Pennsville, NJ, passed away suddenly on Friday, December 29, 2017. Christine was born January 27, 1973 to Betty Anne Robertson and David Weber Sr. in Salem, NJ. She grew up in Deepwater, NJ and was known by many as "Sissy".
She was predeceased by her brother David Weber.
She is survived by her husband, Jeffrey Stewart, daughters; Casey DeWitt and Dana Stewart, mother Betty Ann Robertson and step father Kenneth Robertson.
Christine was a loving mother and her two daughters were the light of her life.
You can only have one mother
Patient kind and true;
No other friend in all the world,
Will be the same to you.
When other friends forsake you,
To mother you will return,
For all her loving kindness,
She asks nothing in return.
As we look upon her picture,
Sweet memories we recall,
Of a face so full of sunshine,
And a smile for one and all.
Sweet Jesus, take this message,
To our dear mother up above;
Tell her how we miss her,
And give her all our love.
A memorial service will be held on Wednesday, January 3 at Laughrey's Funeral Home in Pennsville, NJ. Visitation will be from 6:00 pm to 7:00 pm and a celebration of life service will begin at 7:00 pm.