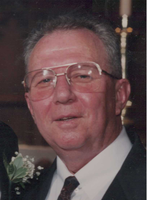 Ethan Franklin Crandall
Ethan Franklin Crandall, age 87 of Pennsville died peacefully on December 17, 2017 at the Memorial Hospital of Salem County following a long illness. He was born in Mechanicsville, PA of June 22, 1930 to the late Ethan C and Hellen Miller Crandall.
Ethan enlisted in the Army and served during the Korean War. He graduated from Widener College and worked for the Raytheon Engineering Company in Philadelphia. He was a member of the Chester, PA Masonic Lodge No. 236.
He is survived by his partner, Marie Johnson, 2 sons, Ethan Craig Crandall and his wife Margaret, and Kevin Crandall and his wife, Kim, Todd and Jere Johnson, 8 grandchildren, 11 great grandchildren.
Predeceased by his sister, Helen Hanaway and his son Lane Crandall.
Funeral services will be private at the convenience of the family. www.laughreyfuneralhome.com