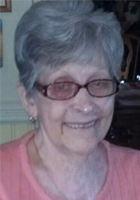 Sandra L. Robinson
Sandra C. Robinson (Collier) 75, passed away on December 1st, 2017 at Salem Memorial Hospital surrounded by her family. She was born in Appalachia, Virginia on February 28th, 1942 the oldest of two children. She graduated from Salem High School Class of 1960. She was a long time resident of Salem County.
She is predeceased by her parents John and Virginia (Ruth) Collier and her husband Roscoe (Rocky) Robinson. She is survived by her brother Danny Collier (Hui) of Colorado. Her children Kim Bedilion (Mike) of LAC, Lisa Ridgway (Howard) of LAC, and Scott Robinson (Valerie) of Mannington. Her grandchildren Cody and Shelbi Ridgway of LAC, Katlyn and Bailey Bedilion of LAC, Marlena and Sam Robinson of Mannington, great granddaughter Raeghan Ridgway of LAC, and many nieces, nephews and cousins.
Sandy was employed by Priscilla Peddler in Salem, NJ for 10 years and following that a cashier at Shoprite/IGA of Salem, NJ until retirement. Sandy enjoyed spending time with her family and friends, she was a home maker for many years so you could always find her in the kitchen cooking with her family. She had passed down many recipes to her children and grandchildren over the years.
Memorial services will be held at 11:00 AM Friday December 8th at Laughrey Funeral Home in Pennsville, NJ. Where friends and family may call from 10 - 11 AM.
In lieu of flowers please make donations to Riverview Cemetery in Big Stone Gap, Virginia. Donations should be sent to Randall Hicks Treas. P.O Box 162 E.S.G. VA 24246