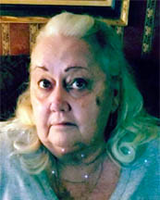 Darlene M. Stoms
Darlene (Di) M. Taylor Stoms
Darlene (Di) Stoms of Pennsville, NJ passed away on November 25, 2017. Di was predeceased by her parents, Hoyt and Theresa Taylor, her son David Stoms (2012). Survived by her husband of 49 years, Vernon Stoms, children, Vernon and his wife Cindy, Tom and his wife Amy, Christi and her husband, Bryan, Gary Miller, daughter in law, Fawn, 8 grandchildren, her four legged babies, Floppsie, Sarge and Allie.
Di was born to Hoyt & Theresa Taylor on January 10, 1949 of Niagara Falls, NY. Di was raised in Phoenix, AZ until moving to Oklahoma. She married her husband Vernon in 1968 and moved to Pennsville, NJ. Di not only cared for her children but also her mother and father in law. Her career started working in the insurance business in 1995 at Kevin Jordan's State Farm Insurance Agency where she worked for 20 years until retiring in December 2015.
Di's hobbies where crocheting, collecting medieval time decor, going to the Renaissance Fare and spending time with her grandchildren. The most important part of Di's life was her love of God.
A celebration of Di's life will be held 8:00 PM on Friday December 1, at the Pennsville Assembly of God Church, 328 North Broadway, Pennsville, NJ 08070 where friends and family may call from 6:00 to 8:00 PM prior to the service. Burial will be private. www.laughreyfuneralhome.com