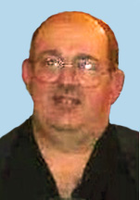 Kenneth J. Trout
Kenneth J. Trout age 59 of Carneys Point died Wednesday November 8, 2017 at Inspira Medical Center in Vineland, NJ. He was born in Mannington Township and, was the son of the late Warden W. Trout (2006) and Thelma A. Hahl Trout (1991)
He worked for Mannington Mills as an operator for close to 40 years. His passion was bowling. He bowled on different leagues thru the years and his teammates became his second family. He also enjoyed going to the casinos playing the slots and dining out. He had his own style and his own way of living his life. He loved spending time with his nieces and nephews.
Survived by his sister Linda A. Trout-Miller of Pilesgrove, Brother Robin R. Trout of Pennsville.
Predeceased by sister, Janice I. Trout-Keen ( 2012 ) and Brother Charles Trout.
Funeral services will be held Tuesday November 14, 2017 at 7:00pm at the Laughrey Funeral Home Pennsville where friends may call from 6-7pm prior to the service. Burial will be private. www.laughreyfuneralhome.com