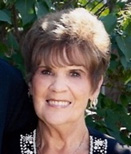 Helen M. Jones
Helen Marie McCracken Jones, age 85, of Pennsville died Sunday October 22, 2017 at the home of her daughter, Debra. She was born on March 13, 1932 in Danville Pa. Her parents were James T Brady and Teresa Schott Brady and Helen was one of thirteen children. She graduated from the Sacred Heart Academy for Girls.
She was predeceased by her first husband William F McCracken. They had 5 wonderful daughters: Linda (Don), Debra (Mark) , Jody (Mike), Sharon (Lou), and Pamela (Gary).
She married the love of her life, Elwood H Jones (Woody) in June 1985. Together they raised her children and his 5 children: Mark (Debra), Vance (Karen), Terresa, Forest (Joe), and Victoria (Terry). Helen resided at Holly Tree Farm with Woody until he went to heaven on April 1, 2016. They were happily married for 31 years.
Helen treasured her family, her 10 children and their spouses, 19 grandchildren, and 19 great grandchildren.
Helen had a long and successful career in selling Women's apparel, that started in Prince's in Salem, and ended at Macy's, selling for Jones Of New York, when she won a first class trip to London and Paris, for being the top sales person on the eastern coast.
Helen and Woody spent their retirement traveling on several cruises, trips to Disney World, Las Vegas, and they loved going to the casinos.
At the request of the family, funeral services will be private. www.laughreyfuneralhome.com