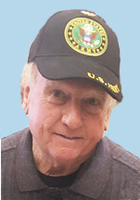 Albert J. Olnhausen
Albert Joseph Olnhausen, age 76 of Pennsville died Tuesday October 3, 2017 at the Christiana Care Hospital, Newark, DE. He was born January 16, 1941 and was the son of the late Thomas and Edna Clark of Pennsville, and the late Earl Olnhausen, Sr. He was predeceased by his brother, Earl Olnhausen and his grandson Johnny DiDonna, sister, Emylou Mason, and a brother Thomas Clark.
Bert graduated from Salem High School in 1958. He enlisted in the Army and served as a Sergeant in Germany during the Vietnam War. He was an expert marksman and served on the rifle detail of his squadron. After being discharged, Bert worked for DuPont for 35 years. He loved cars and spending time with his wife and family.
Bert is survived by his wife, Beverly Lewis-Olnhausen; his daughter, Dena Kurtz-Jones and her children Nicolette and Josh Jones; his daughter Stephanie DiDonna and her children Carly and Joey DiDonna; his son, Joe and Elaine Olnhausen, their children Georgia and Jake Olnhausen; and step-children Rich and Lori Harris, their children Emmily Uhland, Olivia and Jesse Harris; Earl and Debbie Harris, their children Josh Matthis and Caden Harris; and Bleigh and John Tantlinger, their children Carley, Amanda and Molly.
Funeral services will be held 11:00 AM Saturday October 7, at the Laughrey Funeral Home, Pennsville where family and friends may call from 10:00 to 11:00 prior to the service. In Lieu of flowers please make donations to the VA Medical Center 1601 Kirkwood Hwy, Wilmington, DE 19805. Burial will be private. www.laughreyfuneralhome.com