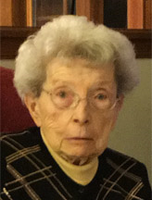 Mauricette S. Wightman
Mauricette (Marcy) S. Wightman, 93, of Pennsville, New Jersey passed away peacefully on September 23, 2017. She is the widow of Berton Wightman and the mother of Chantal Robbins of Pilesgrove, New Jersey (Clell) and Sandra Wightman of Pennsville, New Jersey. She is the grandmother of Mauricette Robbins Benzing (Bill) of Garnet Valley, Pa and Cassandra Robbins Sholders (Richard) of Woodstown, NJ. She is the great grandmother to Conner and Chase Benzing of Garnet Valley, Pa and Allie and Mason Sholders of Woodstown, NJ.
She was born in Paris, France in 1923 to the late Barthelemy and Gabrielle Aubrun as well as an older sister, Simone. She lived in Paris during World War II where she attended University of Paris - Sorbonne for two years until the war made it impossible to continue. She helped the war effort and worked for the CFS or Croix-Rouge française where she crawled into bombed buildings to find survivors. She met Berton Wightman, an American soldier from Pennsylvania, at her parents' hotel and café where she worked. They were married in August of 1945 and she made the long journey to America.
She taught French at Widener University once arriving and settling in Pennsylvania. She moved to Pennsville, NJ and had two daughters with her husband. She became a widow before the age of 30 and through correspondence courses finished enough of a degree to begin a career to stay and raise her children in America. She was the Director of Food Services for the Pennsville School District for thirty years where she ran every cafeteria in the district. She lived in Pennsville for the majority of her life.
Upon retirement, she volunteered for the Healthy Heart Foundation to assist people with nutrition. She was a member of the Trinity Methodist Church in Pennsville, NJ. Her main-focus throughout her life was her dedication to her granddaughters and her family. Whether she was cooking French and American cuisine for her family or teaching her granddaughters and their friends gymnastics in the backyard well into her 60's, she always made a lasting impression on people due to her small size, but mighty personality and her thick French accent.
Funeral and burial services will be private at the convenience of the family.
In lieu of flowers please make memorial contributions to the Parkinson's Foundation or the Trinity United Methodist Church Memorial Fund, South Broadway & Church St., Pennsville, NJ 08070. www.laughreyfuneralhome.com