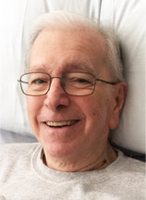 Alfred C. Coleman, Jr.
Alfred C. Coleman, Jr.
Alfred "AL" C. Coleman, Jr. died on Monday September 11, 2017 at the age of 83 at the Golden Rehabilitation & Nursing Center, Mannington Township, NJ. He was born February 20th, 1934 in Salem City to the late Alfred C. Coleman, Sr. and Ethel Bacon Coleman. He was the husband of the late Mary Grace Coleman who went to be with the Lord in 2015.
Al went to Wyncoop one room school house off Quaker Neck Road in Mannington. Al was a graduate of the class of 1952 from Salem High School. He attended Gettysburg College for a year before transferring to Rutgers where he graduated in 1959. Al worked for the DuPont Company in Wilmington, Delaware and was a real estate and insurance broker in Pennsville. He was an avid Eagle Scout, loved playing the drums and giving drum lessons, was a member of a barber shop quartet and pitman Hobo Band. Al enjoyed watching NASCAR and was proud to call himself a Rutgers Alumni.
He is survived by three children, Norma L. Alestock and her husband Richard, Alfred C. Coleman, III and his wife Rhonda, and Brian L. Colemen, six grandchildren, Dominique Giordano Callahan, Amanda Cornman, Rachel Coleman, Tyler Coleman, Brooke Coleman, and Breanne Cornman and two great grandchildren Haley and Aidan Callahan.
Predeceased by his ex-wife and mother of his three children, Eleanor Gant Coleman and his stepdaughter, Kimberly G. Bradley
A viewing will be held on Saturday, September 16th from 9:00 t0 10:00 AM at the Laughrey Funeral Home, Pennsville, NJ. Burial and graveside services will follow at the Sharptown Fireman's Cemetery in Sharptown, Maryland at 2:00 PM