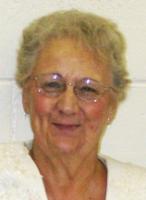 Elizabeth C. Mathison
Elizabeth C. "Betty" Mathison, age 76 of Pennsville went home to be with her Lord on Wednesday April 26, 2017 at the Seasons Hospice Newark, DE. She was born in Woodbury and was the daughter of the late Chalkley and Helen Yeager Porch. Betty was longtime Pennsville resident.
Survived by her husband, James a Mathison, Sr., children, Benjamin Wolffbrandt, II, Natalie C. Wolffbrandt,
Predeceased by her first husband Francis L. Wolffbrandt (2002).
Funeral services will be held 11:00 AM Monday May 1, 2017 from the Pennsville Church of the Nazarene, Pennsville, where friends may call from 10:00 to 11:00 AM. Burial will be held at the Manahath Cemetery, Glassboro.
In lieu of flowers please make memorial contributions to the Pennsville Church of the Nazarene, Missions Fund, 172 Churchtown Rd., Pennsville, NJ. www.laughreyfuneralhome.com